Community Hero Award Winners 2021
Over the last year, we have again seen true community spirit blossom across our communities. As such, we wanted to continue to recognise all those who have gone that extra mile to support others through the South Lakes Housing (SLH) Community Hero Awards.
We have been overwhelmed yet again with the number of nominations for our Community Hero Awards and would like to thank everyone for taking the time to make a nomination- there were some amazing entries. This made it extremely hard for Lyn Richardson (Community Engagement Officer) and Stephen Bolton (Chair of SLH Tenants' Committee) who were the judges to pick the winners. However, after much deliberation, we have 8 incredible Community Heroes who have gone out of their way to help and support others within their communities.
Stephen Bolton, Chair of SLH Tenants' Committee said, "As the Chair of Tenants' Committee I was extremely pleased with the number of nominations for both individuals and organisations who are out there volunteering their time and supporting our communities. I think you will agree that the winners go above and beyond to help those living in our communities. A huge well done to everyone!"
Cath Purdy, Chief Executive of SLH said "We started the SLH Community Hero Awards to celebrate and recognise the hard work that people within our communities put into making their neighbourhoods a better place for everyone. After a difficult time for everyone over the past few years, it was especially important that their efforts were celebrated and honoured. Well done to all of our well-deserving winners for the fantastic contributions they have made."
South Lakes Housing made socially distanced visits to the winners, to hand over the awards.
The eight deserving winners are:
Angela Fell- Ulverston


Angela was nominated for all of the help and support she has been providing for a 99-year-old man throughout lockdown. She has been doing all this whilst also taking care of her own 3 children.
Angela Fell said: "Thank you for the nomination, it was unexpected but very much appreciated"
David Miles receiving posthumously on behalf of Michelle Miles- Kendal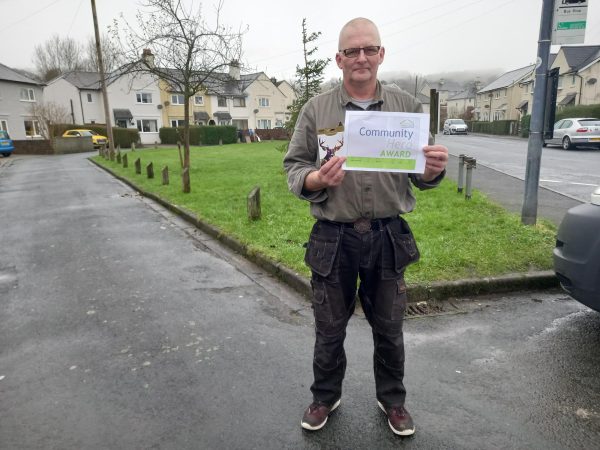 Michelle worked tirelessly for her community whether it be the food share shed in her garden or putting on community events for Easter, Halloween or Christmas. She would go round to vulnerable people in her community and distribute food for the Salvation Army. Michelle and her family deserve recognition for what they have done and still continue to do.
Michelle sadly passed away earlier this year and her husband David has accepted the award on her behalf.
David Miles, Michelle's Husband said "I was happy to receive the award posthumously on behalf of Michelle Miles, she was a credit to the community and all that she did".
Diane Burrow- Kendal
Diane helps others within her community every day even when she is struggling herself. She helps them with gardening, taking and putting back bins, looking after elderly neighbours, walking their dogs and doing other people's shopping. Despite losing her son last year and having chronic severe health problems she is always a bright shining light for everyone in her community.
Diane Burrow said, "I was over the moon to receive the award and it cheered me up to know that I was appreciated for all the things that I do for my neighbours".
Michael Wilson- Flookburgh
Michael has led 35 different charities across the sands from Arnside to Grange raising an astonishing £341,000 for charities which is a life-changing amount of money for them. He does this with his team of marshals who are all volunteers. Michael also helped to bring businesses in Arnside and Grange back to life throughout the year and his local community want to praise him for this.
Michael Wilson said, "It makes it all even more worthwhile when we get recognised for our walks as we put a huge amount of time and effort in behind the scenes. We would like to thank everyone for our nomination. Cedric joined us this year out on the walks for a ride in his tractor which he enjoyed, we are all deeply saddened by the loss of our dear friend and he will be sadly missed by all."
Bowness and Windermere Community Care Trust (BWCCT) with Lamplighter Hotel (Windermere)
Over the pandemic, Bowness and Windermere Community Care Trust (BWCCT) with Lamplighter Hotel (Windermere) have delivered over 10,000 hot meals to the elderly or those that are shielding. The initial idea came from the owners of the Lamplighter Hotel as they recognised that many older people would be self-isolating.  At the height of the pandemic, 150 meals were regularly being delivered each week by 65 volunteers with the youngest from 10 years old. Everyone has pulled together in what has been an exceptional project which has shown true kindness and proved what local people can achieve when they all work together. Recipients spoke of thanks for the food and for a friendly face during lockdowns.
Diana Rutherford- Blawith
Diana's attention to detail to everyone's needs in the local community is over and beyond the call of duty. She has the ultimate respect for the countryside she lives in and has litter picked over 600 sacks of rubbish. She is always willing to go one step further and do anything she possibly can to help other people.
Steve Parkinson- Kendal
Steven goes above and beyond in keeping the bin areas of Pembroke Court clean and tidy, He often collects the bins and blue bags of local vulnerable residents taking them from their doorsteps and putting them in the communal bin area. Previously he has taken fly-tipped items from Pembroke Court to the skip using his own transport. Very recently during Storm Arwen, a tree that had been blown over had left lots of mess, Steven played a big part in the clean up of any mess left over to help keep his community neat and tidy.
Burneside Parish Residents Association
This group and the Chair of the group have been instrumental in providing multiple point support to the community. From setting up a flood group following Storm Desmond the group has proactively carried on providing direct support to the community both for prevention and responsive actions. They have provided support throughout the pandemic, kept a full  food share box and put up a Christmas tree year on year for the community to enjoy. The group also run a coffee morning, kids club and other events for the community whilst providing ongoing support to residents.
Gayle Howarth, Chair of Burneside Parish Residents Association said, "We work so hard and try to support so many people and projects that it's absolutely brilliant to win".
< Back to News