10th Anniversary- Saying thanks to our Customers
This year we celebrated our 10th Anniversary! Over the last 10 years SLH has achieved some pretty incredible milestones, and we wanted to say thanks to a few customers who have helped us and their communities along the way!
Steve Parkinson on a daily basis always keeps the estate where he lives tidy by picking up litter and tidying the bin area. He was very pleased to receive the litter picker grabber, gloves and brush.
Steve said "Thank you very much- the broom is serving me well'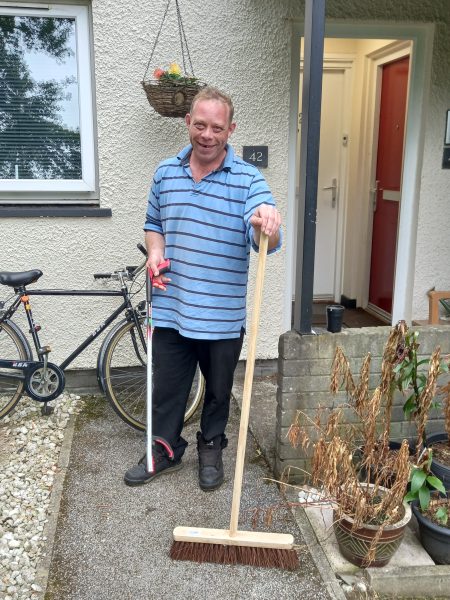 Dorothy has been part of Tenants' Committee for many years and adds value to the meetings with the points she raises. She has also been the Treasurer for Cumbria and North Lancashire Tenants forum where she has kept up to date records and contributed to the success of the group.
Dorothy said. "Thank you for the flowers, it is very unexpected"
Paul never misses an estate walkabout in Ulverston and always makes good suggestions around how to improve things.
Paul said "Thanks for the voucher"
Dee has always kept the communal gardens close to where she lives immaculate and beautifully cared for.
 Dee said 'She will continue to look after the area for as long as she can manage as it keeps her going"
John has been a key member of Tenants Committee, contributing to policy changes and adding value to debates. He has also represented Tenants on the Grant Application Panel and the Complaints Panel.
John said 'Thank you very much, what a nice surprise."
Kath has taken it up on herself to upkeep and maintain the square near to where she lives. Many residents have commented how nice it looks and how it makes the area feel more homely. She has painted fences and plans to keep on improving the area.
Kath said "Thank you very much, it is a real surprise. I will use it to buy more fence paint"
Dawn and Sue are fantastic at organising event at Edgecombe Court for all the residents to enjoy.
Dawn and Sue commented "Thank you very much for the flowers'
< Back to News